Serbia is a Balkan country and is considered as a major land route connecting Central Europe to Turkey. It lies between latitudes 41° and 47° N, and longitudes 18° and 23° E, and covers the area of 88,361 km2 with population (excluding Kosovo and Metohija) more than 7,500,000; 83% Serbs.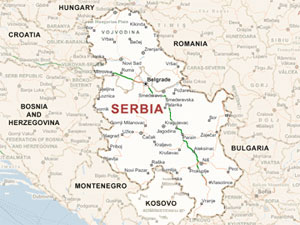 Climate: In the north, continental climate (cold winters and hot, humid summers with well distributed rainfall); in other parts, continental and Mediterranean climate (relatively cold winters with heavy snowfall and hot, dry summers and autumns)
Time zone:
central European, CET (GMT + 1 hour)
Offical language: Serbian
Currency: the Dinar (RSD)
(1EUR= 123,79 RSD, rate 16.01.2017.)
Electricity: 230V, 50 Hz
International dialling code: +381
National Internet domain: .rs
Serbia is a member of the UN, Council of Europe, OSCE, PfP, BSEC and CEFTA. It is also an official candidate for membership in the European Union and a neutral country.
The largest city and the capital is Belgrade, the administrative, economic and cultural centre of Serbia.
Serbia has 5 national parks and 22 nature reserves, and the Danube river is the largest source of fresh water. Considering this, Serbia offers a huge variety of activities like hiking and mountaineering in Homolje Mountain Range, birdwatching in Obesdska Bara that has more than 220 species of rare birds, cave exploration, offers enjoying panoramic views of the mountain Tara while rafting down the Drina River, fishing in various riverbeds like the Danube, the Morava, the Sava, and the Tisa, skiing in Kopaonik or Zlatibor ski center. From May to October the Serbian climate is warm and dry.

Serbian cuisine is a heterogeneous cuisine, sharing characteristics of the Balkans, the Mediterranean (especially Greek), Turkish and Central European (especially Austrian and Hungarian) cuisines. Among traditional Serbian foods are ćevapčići, pljeskavica, sarma, pasulj, burek, gibanica, ajvar.
The national drink is Slivovitz.